That stands for World Wide Knit in Public Day.

That was yesterday.

I met up with Jan, Rachael, RahRah, ProbablyJane (and her friend) and my daughter, Jess, whom I taught to knit on THURSDAY joined us!

Unfortunately this is also the weekend of the annual Isle of Wight Festival and Newport was packed! We managed to squish around a table and ordered drinks. £1.95 for a TINY little cup of cola. Not impressed and even less so when the waitress spilled some diet coke over Jessica's knitting (thank god it was just cheap acrylic and not handpainted stuff!). a second waitress spilled coke on Jane's friend and another spilled water on the table!

When it became obvious that we weren't going to order much, they gave us the bill as a hint that maybe we should get lost.

Jan was working on a shawl that she's making in her own handspun which has now got me pondering taking up spinning. It's never interested me before because, quite frankly, all the handspun stuff I've seen has looked exactly that: HANDspun! It's looked amateurish. But this stuff Jan was using was lovely and the shawl was really soft! Now I keep thinking; "hmmmmmmmmmm, I could do that!"

We stayed for a couple of hours then left, it was loud, smelly and not very comfortable and we had to put up with seeing this: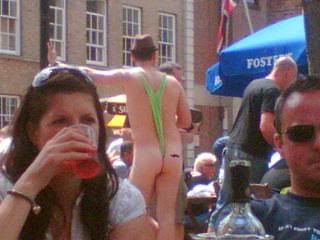 NASTY!!!