I guess I've got some major catch up work to do as I haven't posted in ages!

I've managed to finish all my Christmas knitting and I did it in time to deliver to Kerry's on 23rd December too! Here are pictures (click the links) of the stuff I've finished since last posting.
A sweater for Dominic
, a scarf for Mel
, a capelet for Rose
(a client at the home my mother works in) and a snugly wrap
for me! I also managed to finish the blanket that Kerry requested for her friend who is expecting a baby in February! I've just started the sampler stole from A Gathering Of Lace to keep me going until we start Moroccan Days/Arabian Nights on 3rd January!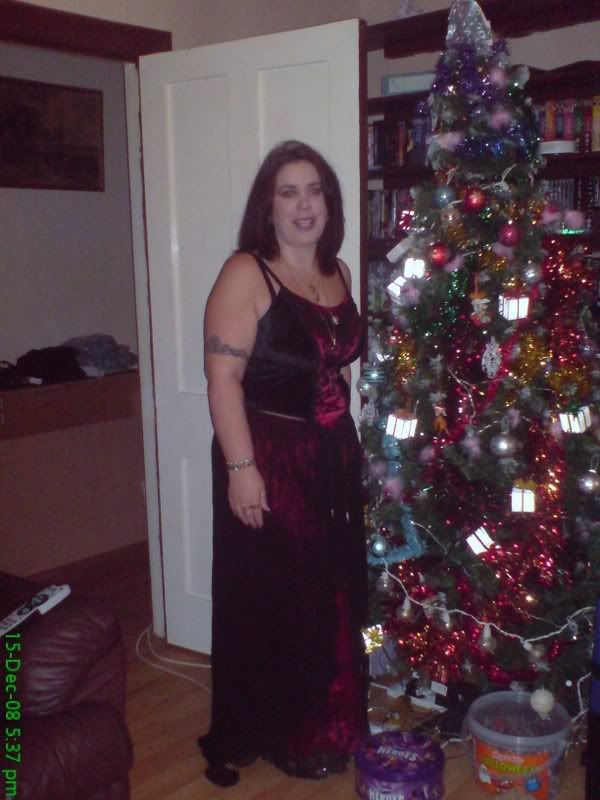 We had our knitting Christmas dinner on the 15th, I'd really been looking forward to it and had new clothes for it –- aren't they fabulous? I ended up being sick twice due to a migraine and calling my mother to come and rescue me tut.

I was absolutely gutted to miss the dinner so a few of us met for lunch today and it was really nice.

I went to visit Kerry and the kids on 23rd December; we had a lovely day even though Kerry, Phoebe, Alex and I all had the flu!

The journey was all too much for me unfortunately and I spent the next four days wrapped in a blanket with streaming eyes and a streaming nose. I haven't done any Christmas baking and I didn't get drunk on Christmas day like I'd been planning too lol!

I'm starting to feel much better so I shall see the new year in with style, even if I am just sat at home!

Happy holidays everyone!