I can now post pictures of the RAK gift I made. It's a baby jacket
and I
made it for a woman in the USA who is expecting a baby at the end of
June. I received a PM from her at the beginning of the week thanking me profoundly for the baby jacket.
I've got loads of sock yarn here waiting to be knitted up. Some I've received from fellow Knitting Goddesses (Ravelry Link) and some I've bought!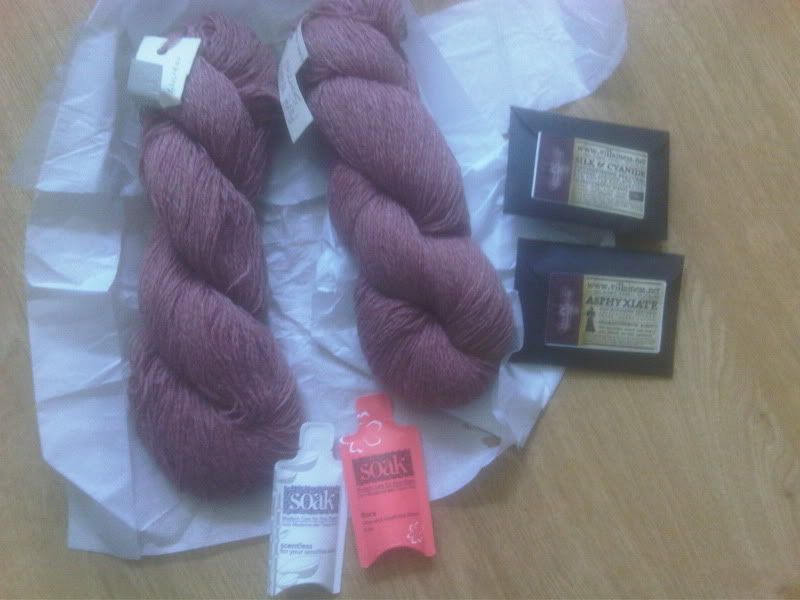 I received a lovely RAK from Marie (stashsiren on Ravelry); she sent me some handspun, two little bars of soap and two sachets of SOAK (special stuff for washing yarn)! I'm dying to knit some socks for myself - especially as I haven't actually got any for ME - but I'm being stern with myself.

I've decided that I'm not allowed to start another new project until I get this damn shawl finished!

The Kid Silk Haze is driving me crackers and I'm bored beyond belief with the pattern, but I'm on the final chart now. I've just got to repeat that about 3 more times and cast it off and it's done! I'm not going to put a fancy border on - that will just take ages and REALLY tax my patience with the whole thing.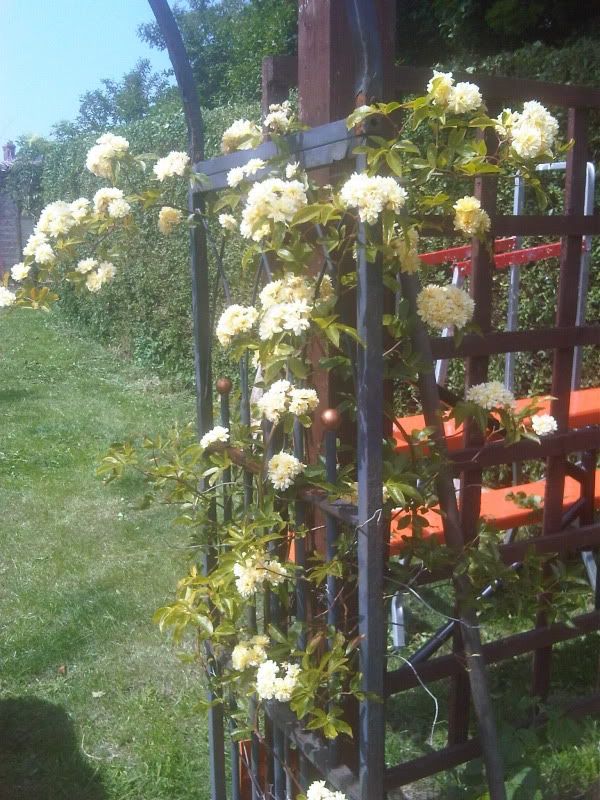 I sat out in the garden today, the sun was shining and it was roasting, here's a photo of my Mum's climbing rose - isn't it gorgeous?
I courted heat stroke for a couple of hours under all that KSH then came back inside - the bits of skin on show are now pink! In less than 2 hours!!!

We had Knit-A-Lunch on Saturday. It was a lovely afternoon, there was myself, Joy, Rachael, Jan, Sue and Alice (aka Socktopus) was down visiting her in-laws so I sent her a tweet and invited her along.

If you ever get a chance to go to her shop and meet her, then I would say definitely go - she is so down to earth, chatted away like we were all old friends and took a great deal of interest in what we were all knitting. Unfortunately she couldn't stay for the entire afternoon as they were due to catch the ferry to go home, but it was lovely that she came. Also unfortunate; I didn't get to meet Deuce; her little black pug. But we did show each other furry baby photos!

The kids are on holiday for the next week as it's May bank holiday, they go back on 1st June, except for Matt who has now left high school bar his exams. It's a very strange feeling having two children out of school!

We're still not watching TV and it's been great! The only thing we've watched has been WWE and TNA wrestling so that the Sky+ box doesn't get overloaded too much. We also caught up on Medium and Bones this evening - it actually felt quite strange to have the TV on.

I've decided to cancel our Sky subscription, which will no doubt piss Kyle off no end, but I'm sick of paying £50 a month for something I rarely use and can live without! After doing a bit of research we've discovered that we can find the wrestling shows online, we can buy the box office main events through Mum's box (or keep our box for the free to air channels and pay for box office) and everything else we watch can be bought on DVD!

Hmmmmmmmmm that was quite a long post, wasn't it? If I've forgotten anything, do let me know