Have you had a good day?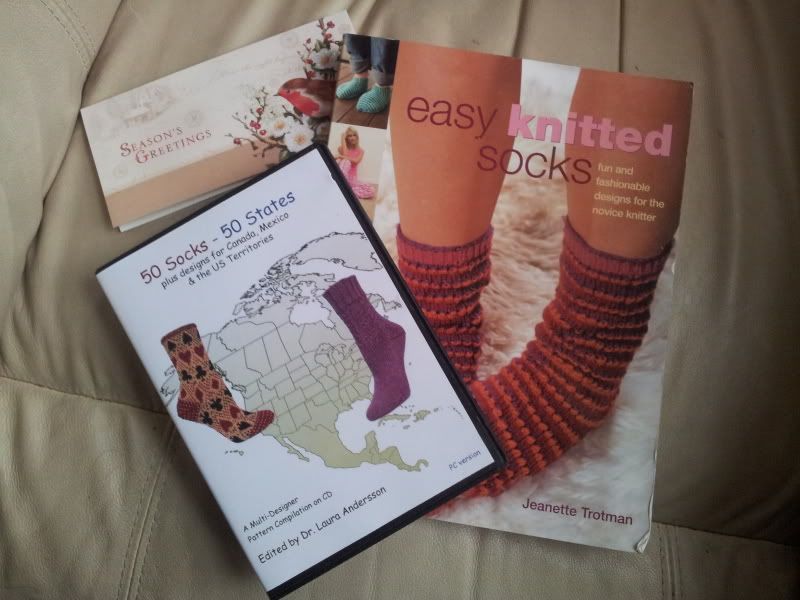 Sock patterns from Claire!
Mine has been awesome! I got up about 8.30, had a nice hour drinking tea and surfing the web, then I had a shower before we all opened our presents.

I got LOADS!
Claire gave me a sock pattern book and a CD with over 50 sock patterns on!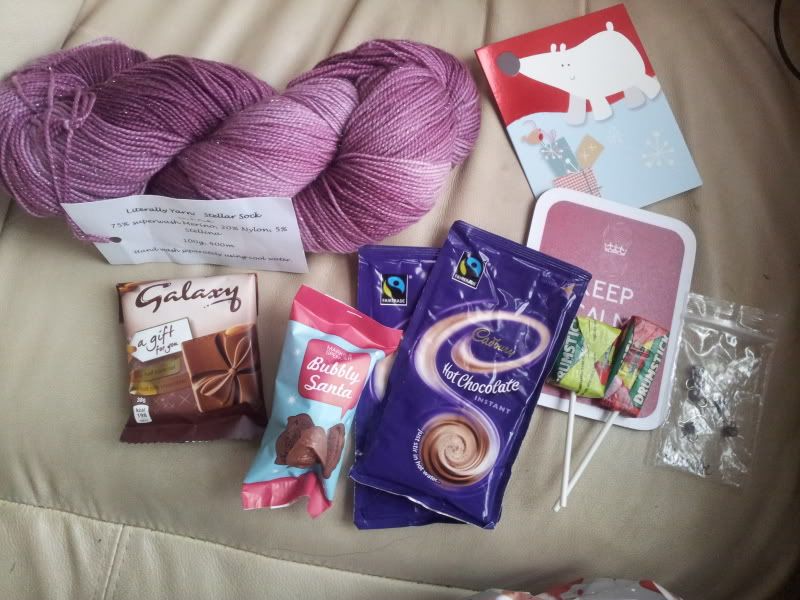 From Kathy
This gift alone will keep me busy this year!
I joined in two Secret Santas this year. One Santa - her Ravelry username is Kathycogs - gave me a shoe box crammed full of stuff. There was some lovely sparkly sock yarn, Cadbury's hot chocolate sachets, chewy lollies, Galaxy chocolate, 'Keep Calm, Carry On Knitting' cup mat and little itty bitty stitch markers!
From KTjazz
The other Santa didn't immediately reveal herself until I begged her too because she bought me some lovely gifts!
KTjazz bought me some bamboo sock yarn, some chocolate peanuts, some roving to spin up to make dread wraps, a bag she made herself and DREAD BEADS!!! How totally awesome!
She really did her research, I guess she came here LOL.
I also got some lovely angora fibre from Ambermog, can't wait to spin it!
Isis and her duck
Isis didn't get left out - she got a new toy; it's a duck that quacks. We squeezed it before opening it and she got SO excited! She has spent the entire day (when not drooling in the kitchen at the meat) using it as a pillow.
The kids had quite a few gifts this year - some we're not allowed to open as they're from Vicky, Matt's girlfriend, and she's not here until tomorrow.
Christmas Day
They seem quite happy and it took them until 8pm before arguments started LOL
After we had breakfast we sat down to watch Phantom of The Opera - no, not the crappy film version; the proper stage version filmed at the Royal Albert Hall! Mum bought it for me when we went to watch the tennis and I'd been saving it!
The kids LOVED it!
Tomorrow will be a day of gluttony as no one felt like eating - we had such a huge breakfast; no one had room for a full roast turkey dinner!
My new bag!
So tomorrow we are going to have cold meat, mash potato, pickled onions, cranberry sauce and lots and lots of cake!
There will probably be alcohol too!
Well, whatever you did and whoever you spent it with; I hope you had a good day and that the rest of the holiday period is a good one for you and yours.
Oh....I cast on socks too *embarrassed face* but they're not for me! I was asked to make some for Juliann ages ago, she even sent me the yarn, but I got so wrapped up in socks for me that I didn't get around to it. In this pic I've placed the yarn with the started toes in front of the bag Matt bought me for Christmas :D