Hmmmmmmm, this is probably going to be quite a long post, so be warned!

Phantom of the Opera - loved it! It was amazing! The young man who played the Phantom was Nic Greensheilds and his performance was so inspiring, I was in absolute floods of tears!

On the way to London we stopped at Drummonds, it's one of those places that strips the insides of houses before the houses get knocked down and then sells off all the bits and pieces. *whispers* Just in case you didn't know; they're famous LOL.

Mum has always muttered about going in there, so this time we did. They had soooooo much stuff! How would you like some of this in your house? A MARBLE toilet, sink & bath?
We also found this lounge bath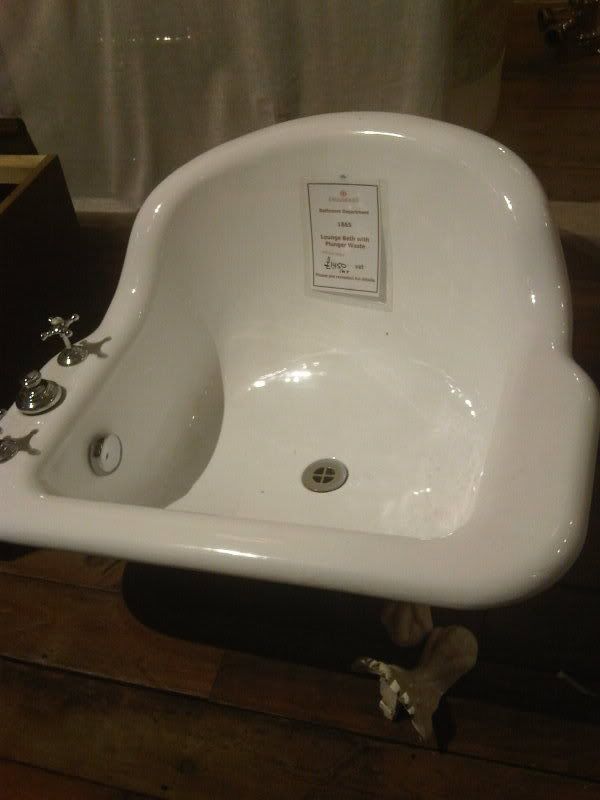 - Mum was in hysterics because she said it looked like something you'd dip your backside in!

After we'd nosed around there, I took Mum into the Devil's Punchbowl Hotel for a cooked breakfast. I assumed we'd get a humongous meal being as it's a well known hotel. What we got was one sausage, two rashers of bacon, one fried egg, a spoonful of mushrooms, half a tomato and a bowl of beans.

The bacon was worryingly pink, the egg yolk very dark orange, the beans looked like they'd been reheated and the sausage HAD been reheated so many times; the middle had gone rock hard.

I called the waitress over and told her it was totally unacceptable and we got up and left without paying for the tea and coffee we had drunk. I was so upset, I'd taken Mum in there for a birthday breakfast and they served complete crap!

We decided to get back in the car, get to London and then find somewhere to eat.

We arrived with an hour and a half to spare before the performance, found a quiet little pub and had a pub lunch which was totally delicious!

Then we had an ice cream at the foot of the statue in Piccadilly Circus (is it Eros, it's not, is it?).

We wandered around like the gentry as we were both dressed up. Mum was wearing her birthday shawl - which she adored and I was wearing MD/AN.

We were sat in the second row of the Royal Circle - ideal seats except for the Italian students that were EVERYWHERE!

Twice we asked them to stop chatting and fidgeting throughout the first half and during the intermission, I complained to one of the theatre staff that the teens were unsupervised and spoiling the performance for everyone else. Just before the second half of the performance, a man came over and babbled at them angrily in Italian for about ten minutes then sat glaring at them for the rest of the show LOL!