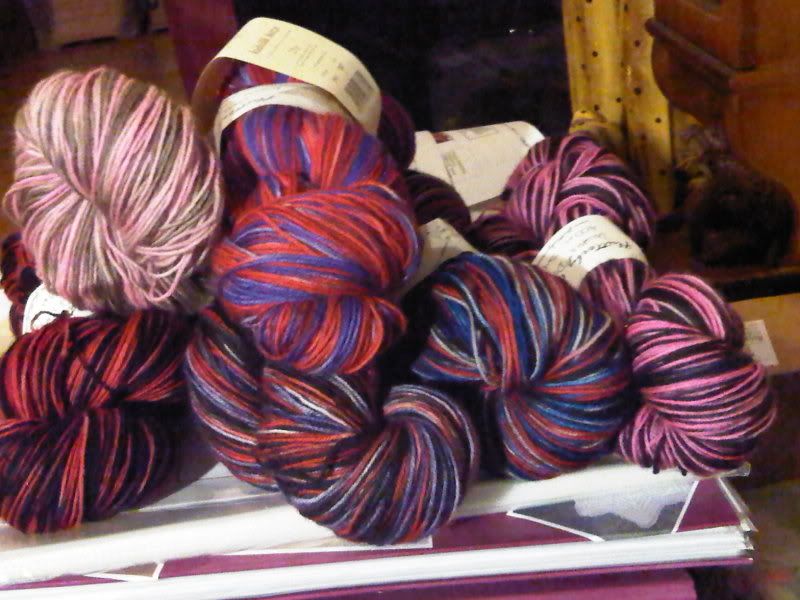 I've purchased so much yarn lately! I've got 6 skeins here waitin
g to be turned into socks for my feet and about 30 patterns saved on my laptop and some already printed up and put in my bag.

The trouble is, you start yourself off with a few patterns and a few balls of wool. You tell yourself that you're going to knit through all of that before buying anything else.

Then you discover Ravelry! There are sooooooooooooooo many free patterns on that site that it's just not funny! I put in a search for free sock patterns and it came up with 130 pages worth!!!

I think I'm gonna need more than 6 skeins!

Have you noticed the new gadget over in the sidebar? The one that tells you how many meters I've knitted this year? Isn't that cool? I found it on KnitCave's blog and just had to have one! If you click it, it'll take you to the site; just follow the instructions to get one for your blog.

I've decided that I'm going to go for a walk tomorrow. I'm going to wander in to Shanklin to see if I can find some buttons for the RAK and return the extra ball of yarn I had left over. I hope it's a nice day, I really need the exercise and if it's not nice; I won't go anywhere!

So, on the needles at the moment (besides Louhi and the GAAA which are determined to be loooooooong projects), I have a Spider's-Web Shawl. You can find it on page 44 of Victorian Lace Today.

I'm using Rowan Kid-Silk Haze in a sort of plum colour (because everyone at knit night said it was 'me'!) I'm not sure about the yarn; the kids think it's lovely. I don't particularly like holding it in my hands and I'm hoping I'll like it a lot more when it's draped around me. Here's a pic of my progress so far, it's draped over my knitting bag - I've used one ball of KSH so far!
It's a basic pattern - mostly just stocking stitch so I think I might cast on Madam Salami's socks tomorrow, just to break the monotomy (did I spell that right??) because I don't want to get bored with it after spending all that money on Rowan yarn!