Hmmmmmmmmmmm, not posted for a while, basically because not a great deal has happened. I've received some Debbie Bliss pure silk from a Ravelry user, I was a bit miffed because Royal bloody Mail stung me for 'International Handling
Fee's'.
I've spent today filling in forms, Alex's DLA is up for renewal and I've kept putting it off. Then I got a letter telling me that because I'm on Income Support with a disability premium, I have to apply for Incapacity Benefit. Then after talking to them on the phone they told me I should apply for Child Tax Credit too! Now all the forms are filled in and I've just got to post them!
Mum's going on a 5 day cruise on the QE2 tomorrow. I made Cinnamon Latte for her to take on the cruise and today I received a gorgeous shawl pin off eBay - it arrived just in time! It'll go perfectly with that shawl AND with Moroccan Days/Arabian Nights which we will be casting on January 3rd. I've got several people on Ravelry interested in doing it too, so I've organised a KAL.
I got the beads for it today - blimey they're small. We decided a couple of days ago to thread the beads before cast on day, which is a bloody good thing now I've seen the beads - it's gonna take ages!

I also received two row counters from Muddy Paws, I can't wait to use them, they're great!

I've also just bought an iPhone, it's lovely and I've managed to get one of those sim hacker things so I can use my T-Mobile sim in it, but I can't jailbreak the damn thing. I've tried 4 times and every time the phone just freezes up. It's a brand new phone so I think I'll give it a bit longer until they've perfected the jailbreaking software for the phone.
Oh, I also had my nails done on Friday,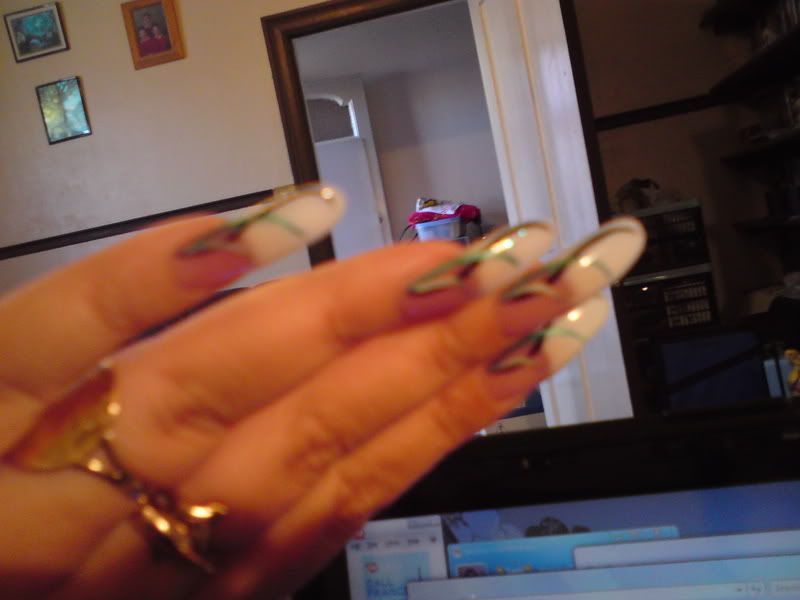 then I met up with a few of the others from the knitting group so we could knit in public as last week was National Knitting Week!