I didn't blog at ALL last month.
How remiss of me!
So thiis is going to be another one of those catchup posts where I ramble incoherently LOL. If you read my blog then you're used to those. If you haven't been here before; then I'm sorry!
So......let's start with the socks. I am up to speed with the A-Z sock challenge and I have two more pairs left to knit; Y and Z.
I have knit two extra pairs (I think) for myself, a pair for Claire, done a test knit and I'm currently test knitting another (knee high) sock.
I'm still planning on taking the 52 pair plunge next year - this is going to leave me with little, if any, time to knit (or spin) anything else! Which is a shame as the Double Knitting technique is trying to seduce me at the moment.
Have you guys seen
this
(rav link)?
It's totally amazing and I really
really
want to knit it! There's another one as well which is cats eyes that I want to knit too!

I was tempted for a while to blow the 52 pair plunge off for a year, but those rascally socks just keep calling to me!!

OK.......what else.......Alex is still battling his depression, he sees a doctor regularly and is on medication. The crashes are still bad, but he's trying his best to cope with them. He has recently decided to stay away from Facebook which I think is a really good thing as it was the root of a lot of his problems!

Kyle is now living next door with my mother - he had a huge fight with Alex and it descended into physical violence which left Alex covered in scratches and bruises and a slight concussion! We decided that him staying next door for a while would be the best thing for everyone concerned and him being there also puts my mind at rest; my mum turns 70 next year and I worry about her being on her own!

I got up one morning and went to turn on the vivarium light - which is the first thing I do every morning - and I noticed one of the vents on the back of the vivarium had been popped out. My stomach dropped and I immediately opened the viv and checked the hide.

Daffydd was gone!

We have searched the house, but we can't find him anywhere. I'm hoping that he has curled up somewhere and is sleeping as the house has been chilly, but now I've put the heating on he may still appear!

I am in the process of introducing Star & Frank to Albert at the moment, they seem completely uninterested in each other, so I shall put them all in together this week! Fingers crossed Albert doesn't eat them!!!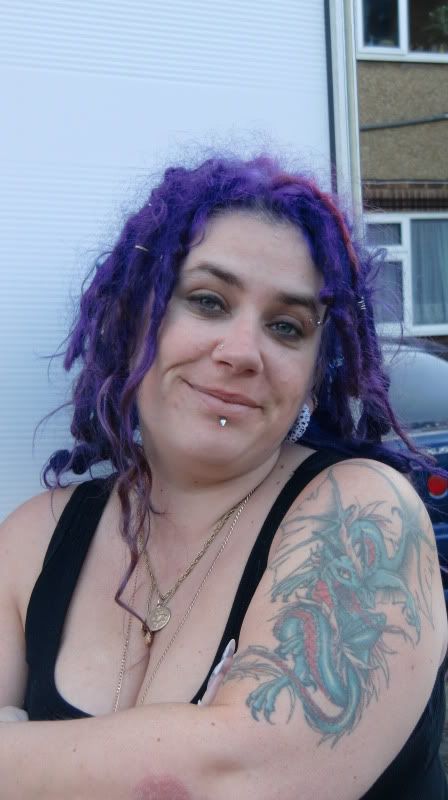 Dreadlock update: My locs will be 5 months old in a couple of days and are doing very well! The pink didn't hold so well, so I overdyed the whole lot with purple a week or so ago. I like the way it looks, but my poor scalp is suffering from the way I've abused it!

Forgive the state of me in this picture, I was shattered!

On Thursday; Mum, Alex, Isis and I packed ourselves into the camper and drove up to Kerry's. We camped outside Kerry's on the Thursday night then on Friday 2nd December, we left Alex and Isis with Kerry while Mum and I caught the train into London.

We met up with Claire and Steve and headed into the Royal Albert Hall to watch the Aegon Masters Tennis!


I saw Pat Cash, Henri Leconte, John McEnroe, Mark Phillipoussis, Andrew Castle, Mansour Bahrami, Peter McNamara, Fabrice Sontoro, Jeremy Bates, Richard Krajicek, Mikael Pernfors, Virginia Wade, Annabel Croft & Tim Henman.

It was absolutely awesome, we watched the afternoon session then Claire and Steve left, Mum and I stayed for the evening session which was originally billed to be John McEnroe vs Ivan Lendl, but Lendle pulled out so Richard Kracijek took his place. It was a really good match.

Unfortunately, the two matches in the afternoon both went to tie-breaks, so the invitational doubles with Bahrami (the main reason I had gone) was only on for half an hour as they had to prepare for the evening session. I was rather gutted, but got some fabulous photos.

I'll post them tomorrow when I can get access to the computer - it's one of the few things I
don't
like doing on the iPad LOL

But I did get this fab shot of Mansour Bahrami which I will post for you for now :D
So.......what've
you
been up to?