Look what Mel gave me! I showed her a picture of one of these in the catalogue, I thought it'd be ideal to use as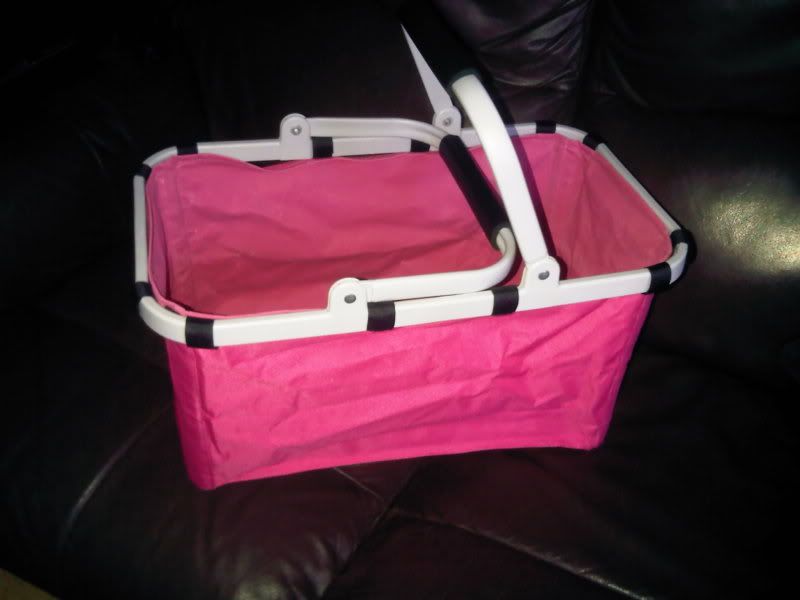 a basket to carry my current WIP's around in. She gave me this one today, said it was sitting in her loft doing nothing. It's not really my colour, but hey - pink and black go well together lol!

The shawl I'm making for my mother is coming along well. She's seen the yarn and that pattern, but not the work and she's not going to until her birthday - I have to keep hiding it quickly when I think I hear her coming!

I've got so many projects on the go and so many more I want to make, it's so unfair.

I've also just bought the pattern for the Queen Ring Shawl - cost me £25 - just for the pattern! I think it's a rip off, but I said I'd making a wedding ring shawl for somebody…I'm sworn to secrecy on who I'm making it for so from now on, I shall just call her Mrs R! I've already told her that if she doesn't like it, it's cool cos I like the pattern and will make it for myself and keep hunting for her. I've got 11 months to make this shawl in apparently, I think that'll be enough as soon as I know this is the pattern, I'll get hold of Joy and tell her to order me some yarn and dye it to the colour we want!

I've never made anything so fine!

I must get on with the GAAA as well - I've done nothing to that since well before Christmas because I was so caught up in MD/AN *sigh* so much knitting, not enough hours in the day!