I drove over a mountain today!
We had to stop on the way up as the engine was starting to overheat and then stop on the way down to cool off the brakes, but the camper made it up and over! I was gobsmacked! I honestly thought it was going to fail at the first mountain we came too!
Check out me knitting on top of a mountain!
How cool is that!?
We also drove through a
lot
of tunnels! The most notable being the
Lærdalstunnelen
which is just under 25km long and the longest road tunnel in the world!
That night we stopped at a resting place which had loads of picnic tables on all different levels and on the last/lowest level was a little circular area just the ideal size for a tent!
We had a good night sleep and in the morning we emptied the waste and chemical before setting off along the E13.
The E13 is a delightful little road! (Yes, read sarcasm there!) One minute, you'll be driving along an ordinary two lane road with a central line, then all of a sudden; you're on an extremely narrow road with no road markings whatsoever, lots of hills and sharp turns! We almost had a head-on collision with a lorry. Scared the crap out of me and I slammed the brakes on
really
hard!
The scenery was stunning, lots of water, tunnels and orchards! We bought cherries from a roadside seller - they were scrummy!
I wrote these notes that night:
I am

so

tired! I ache all over, my legs, feet, back and hips are agony! Although I'm enjoying this; the thought of driving for

another

week makes me want to cry!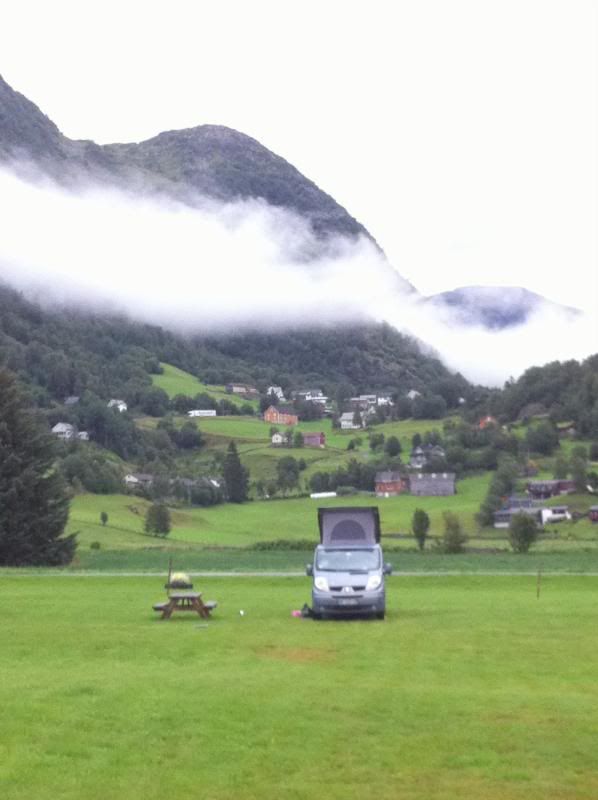 We stayed at a site in
Røldal
that night and I slept like a log! We woke up to low lying clouds and another mountain!
We were starting to head back towards Oslo by now.