In fact, I've won two thngs this week!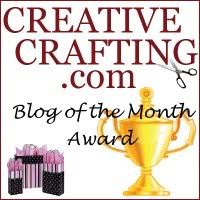 First, I won the Creative Crafting Blog of Month award from the
Creative Crafting
group. Go on over and have a look at their site.
A bunch of women got together and decided to create an online crafting magazine. This months magazine is only issue 6 and I'm very honoured to have been given a prize! I've also been mentioned in the magazine by Diane who's written an article about drop spindling. Go through to the blog and click the little
magazine
and it will open up full size, Diane's article is on page 22-23!
Then I got a message via Ravelry to say I'd won a prize in the Tour de Fleece! I've won 100g of 70% BFL/30% Silk!
Yay!