So, today my dreadlocks turn 6 months!
I can't believe it! I remember doing loads of searching online about the best way to get cool looking dreads, I learnt that wax and other so-called bonding products were to be avoided, I learnt about back combing, twist & rip and how to use a crochet hook to help develop dreadlocks.
I also learned that it's a lesson in patience and thank God mine locked up as quickly as they did because, as we all know; I'm not the most patient person in the world!
Loads of STUFF in my hair!
So, as a treat I decided to wrap one of my locks with a bit of handspun left over from the headband I made ages ago and I put some bells at the bottom of the wrap.
I like this pic on the left, it shows the wrap with the bells and it also shows the bead my godson, Mason, gave me for Christmas and the spider bead I bought when I started to dread my hair. If you look closely, you can also see a silver bead toward the top of my hair and a turtle bead near the nape of my neck and a hint of a gold ring too!
I love how they look and I have ordered some sterling silver bells to be permenantly sewn in, but they haven't arrived yet - the bells in there now were given to me by Natalie.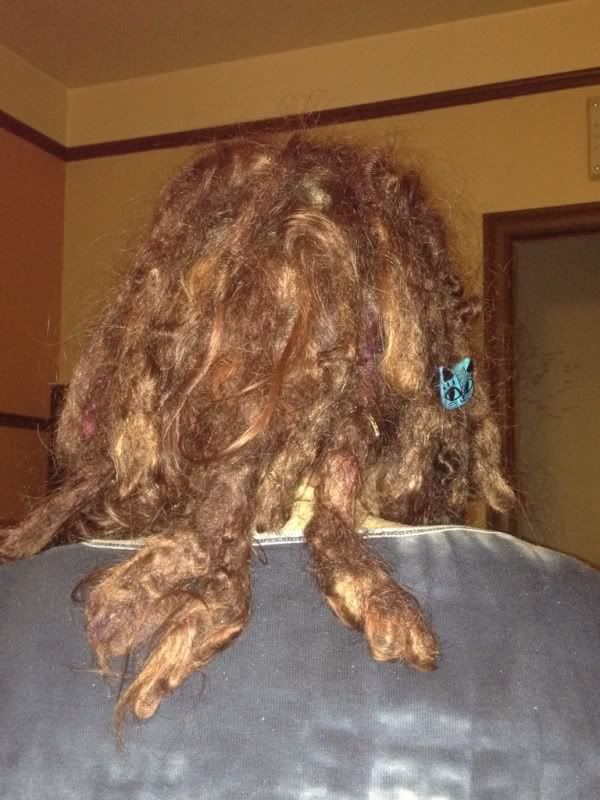 Get a load of them phatties!
I got Alex to take some more pictures of my hair, but the one I was most excited about was the one that shows the back of my head! LOOK at those gorgeous dreadlocks! They're proper phatties!
I've got quite a bit of stuff in my hair now; there's a snake bead, a skull bead, a silver bead with a symbol on, my blue cat bead, a metal ring, a yellow plastic ring, a 9ct gold wishbone ring (a gift on my 16th birthday), my father's gold buckle pinkie ring, a turtle bead, a starfish bead, a bead I bought in Norway, the wrap with bells on, a spider bead and the big bead Mason gave me!
I want my locs to grow
really
long so I can be a right magpie and have loads of stuff in my hair!
Think I might buy a load of embroidery silks and use those as wraps too!
I'm not an expert on dreadlocks by any means, but here are some tips I've learned over the past six months:
You are going to look like an unmade bed - how long for? Everyone is different!
Do NOT use wax, glue, honey or any other product that people say you should to make it lock - it will get trapped inside the locks & attract lint/dust...and they'll smell!
WASH YOUR HAIR! Greasy hair is slippery and knots can't form - clean hair will lock better
Don't use conditioners/conditioning shampoos, I prefer T-Gel but not for every wash
If you use beads from the beginning; move them around to prevent weak spots
If you use a crochet hook to create/maintain locks; be gentle, don't break the hair
When ripping apart your locks, move your hands right down to the roots to check separation
Let your hair MOVE! Wear a hat/headband for work if you need to, but let them down rest of the time.
Do NOT use rubberbands - they will get stuck inside your locks!
It's just hair, if you don't like how your locks are forming, brush out & start again!
I hope these tips will help you out, it's up to you if you follow them or not - it's your hair!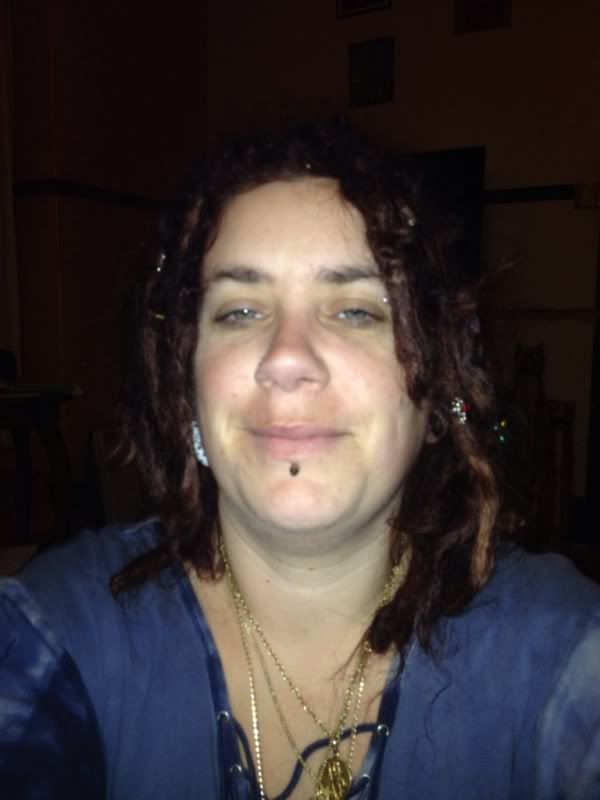 Argh! Bright light!!
Here is a shot of me from the front - excuse the no make-up squinty eyed look, I hadn't put any make-up on today (psoriasis keeps flaring on my face) and I'm photosensitive; I
hate
the flash going off in my face! It physically hurts my eyes and my head - took half an hour for me to get past the pain this photo caused!
So......erm......what else?
Oooooh, I remember, I'm off to visit my friend, Kerry, and her new baby next Friday and I've cast on sock 2 of 52. No, I havn't finished sock 1 yet, but all I have to do are the toes which are nice and easy so I've been saving them as 'something to do when a complicated pattern does my head in' socks - such as when we're at bingo or when I'll be on the car ferry next Friday morning!
The second pair is Aragorn and is being knit in Onyx - this fulfills the A-Z AND SolidSocks requirements!