I think I'm obsessed! I've thoroughly enjoyed knitting all these socks, even though I've knit nothing else and done hardly any spinning whatsoever! In fact, I've even knit
extra
socks!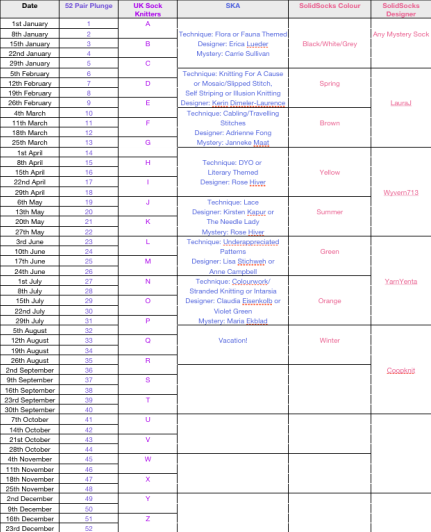 So next year I'm setting myself a challenge and it's a totally bonkers one! I'm going to follow the theme of four different sock groups from Ravelry.
So, there's the 52 Pair Plunge - that's 52 pairs of socks knit in one year - one pair a week.
Then there's the UK Sock Knitters A-Z Challenge, the Sock Knitters Anonymous AND SolidSocks (I won't be actively participating in the 52 Pair Plunge as they start in July and signups are already closed, but I still aim to do 52 pairs in a year!)!
Now, the A-Z Socks cast on goes 'live' every other week, so either pair 1 or pair 2 would also have to begin with the letter A (the pattern, I mean).
As well as that at least one of the pairs I knit in January would also have to be Flora or Fauna Themed/Designed by Erica Lueder/January's Mystery Sock for SKA
AND
one of the pairs need to be Black/White/Grey or any mystery sock ever designed.
Luckily SolidSocks only change their designer every other month, but the colour does change every month.
So in theory the first pair of socks for January 2012 could be a pattern that begins with A, designed by Erica Lueder and knit in black! That way, all I would have to worry about is knitting that pair in the first week, so that I can get all other socks knit in time LOL
Clear as mud, right?
Anyway, the pic is a pic of the spreadsheet I've spent this afternoon designing for my sock challenge next year.
Yes, I know....I'm a sad muppet!
But I'll be a sad muppet with warm feet!!!