A couple of weeks ago, my friend Marianne, asked if I would be willing to review a new bag design she had come up with.
I jumped at the chance - after all, who doesn't love a new project bag, right?
Marianne calls it her Little Dumpling and you can see her photo stream
here
.
So, this bag arrived on the Tuesday after August bank holiday and I was immediately enamoured with the skull fabric she had used.
It's quite a nice sized bag and I wondered how much I'd be able to squeeze into it - I do like to carry a lot of
junk
stuff!
I decided I would take it along to bingo the following night.
The bag has a front pocket which closes with the two buttons on the front, and the top of the bag closes by 3 buttons spaced evenly along the top. The handle is turned which I had not come across before.
I must admit, I wasn't sure about the buttons to close the bag at first; I thought they'd be a complete pain - but they're surprisingly not fiddly, they do up quickly and easily.
Marianne has also put a pocket on the inside and it's absolutely HUGE! I can fit a blister pack of medication, my bingo card, some money and my bingo dabber pen in it!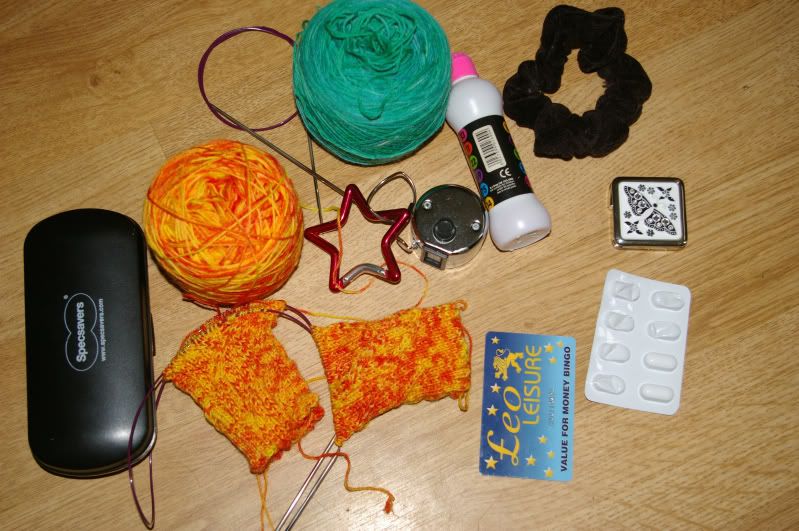 In the main bag itself, I managed to squeeze everything you see on the right; my glasses case, two sock projects (200g of fingering weight yarn, 2 x 80cm circular needles), my row counter on the star keyring, my bingo pen, my bingo card, my pills, my scrunchie and the little doohicky I can hang my bag off!!
It stays done up nicely once it's full and is being carried - even with all my
junk
stuff in it!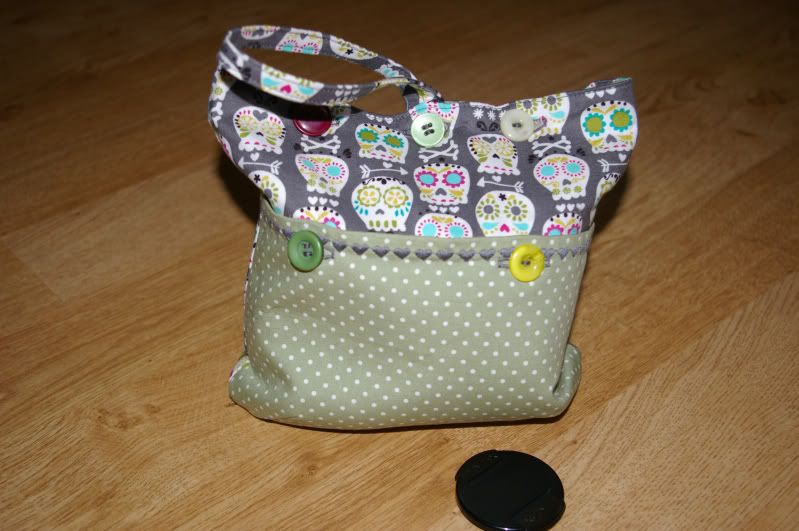 At first I was going to suggest to Marianne that she offers this bag with a flat base as I prefer a bag to stand up, but I discovered this morning while taking these photos that it does stand up! Give it a little squish and the clever corner seams flatten out and it stands quite nicely. I've taken this last picture with my camera lens cap in front of it to give you an idea of the size of the bag and yes, it's standing unsupported.
I don't know how much Marianne is planning to sell these Little Dumpling bags for, but the cost will be worth it. The attention to detail in her work is amazing! The fabric for this bag has been doubled throughout, there's a fancy heart stitching across the top of the pocket, a large pocket inside (which would easily fit your iPhone or HTC in) all immaculately seamed and pressed, she's even included a little keyring to attach your carkeys/row counter/etc too!
I would heartily recommend this bag and if you'd like to buy it, it will be available in Marianne's
etsy shop
very soon!