Sooooooooo, let me see. It's been a month since I last wrote anything here and naturally, as soon as I get here; my mind goes blank.
So, as per usual, this post will probably be a bit rambly LOL.
First of all, Matt turned 18! I'm planning on taking him out clubbing tomorrow night - wonder how drunk I can get him LOL.
Then Jess had her high school prom, finished her exams, left high school and has applied for an animal care course at college! This is a pic of her in her prom dress, doesn't she look absolutely stunning!
Also, June is Woolfest month - I'd been looking forward to this for months and even missed out on being a bridesmaid so that I could attend!
I drove up to Ilford where Claire lives on Wednesday, I slept in the van outside hers on Wednesday evening and she filled the van up with all her stuff LOL. Thursday we headed for the Lake District.
On the way I met up with Dora & Kathy who bought my Majacraft Rose from me and paid me cash which was very handy as I was planning to buy another Ashford Joy so that I'd have a travel wheel and a plying wheel - I love Sherry The Cherry, but carting her about is cumbersome and she takes up a lot of room!
We arrived in the Lakes at dinnertime and Claire took me to a Chinese takeaway for a birthday dinner - it was very nice! China Garden in Ambleside if you're interested.
After that we headed for the Derwentwater Hotel - there's a little dead end road that the hotel sits on and the end of the road doesn't have any double yellow lines or 'No camping or overnight occupation of vehicles' signs so we parked up there for the night.
Unfortunately, a cockeral now lives in the field right there and started crowing at about 4.30am - I was not amused but managed to ignore it for the most part!
We headed into Cockermouth for Woolfest on Friday morning. It was awesome, I walked loads, spent quite a bit, saw loads of old friends, met some new friends, had an absolutele blast, but Isis was the hit of the show. Loads of people came up to say hello to her LOL.
Friday night was the Cumbrian Sausage Fest and the Spin In - it was delicious and gave me the opportunity to check the Joy was all in full working order.
That night a couple of officials were kind enough to let me park with the vendors who had chosen to camp there for the night.
We attended Woolfest again on the Saturday and spent most of the day with 'The Mogs' in the Interactive Area - they run the Interactive Area at Woolfest & Wonderwool, it's a meet up place, a demo area and an area where anyone can come and ask questions, learn a new skill, buy/donate yarn and fibre - all proceeds go towards the Air Ambulance and this year The Mogs raised £230!!
If you're interested you can view all my Woolfest photos
here
.
We went back to the Derwentwater Hotel road despite the cockeral for Saturday night and Sunday night we were invited to visit Damaris at her home - which is gorgeous and I want it! She even has a flat bit outside that was suitable for the camper!
We were going to visit The Mogs on Monday night, but they had a family emergency, we were both exhausted and decided to head back to Claire's!
I stayed at Claire's on the Monday night and Tuesday I went to visit Kerry for 2 nights.
I got home at lunchtime on Thursday, I was exhausted, filthy and dying for a shower.
Before I could do anything, Mel called and asked if I could PLEASE collect Mason from playschool and take him to her Mum's. After which, I came home stripped off, ran the bath and discovered that there wasn't one clean towel in the whole house!
Luckily, Damaris had loaned me towels when I showered at hers, so my towels were unused, but I was NOT happy!
On Tuesday, Live Foods By Post who I get all my snake supplies from posted this picture.
BABY CORNS! And they're black!!
Yes, I've already been in and reserved two :D
I also got a message over the weekend telling me that Matt had a job interview Tuesday morning at Arreton Barns. He went in today for a trial and by 2pm they told him they wanted to hire him! My baby is all growed up with a proper job *sniffle*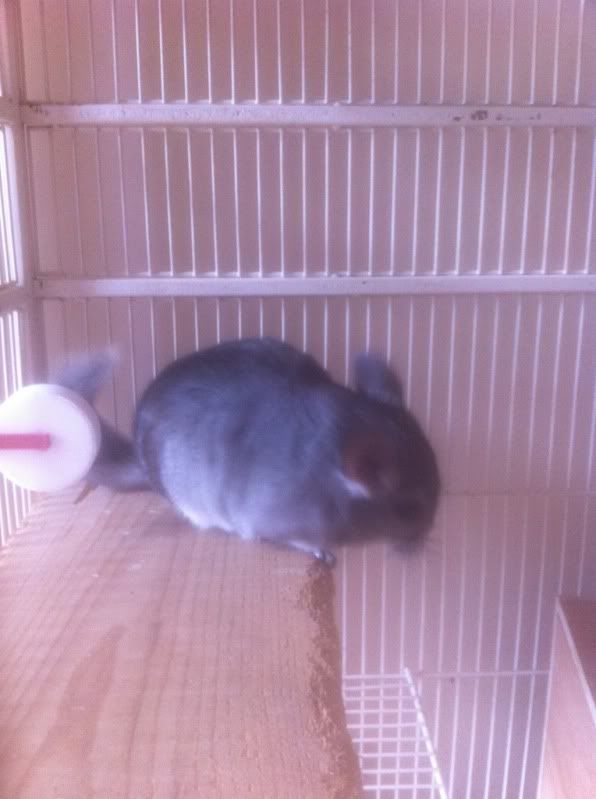 Today, Walter came to live with us, he's a little chinchilla born from the pair that Mel has so I know he's been cared for properly and I've definitely seen his parents LOL
He's had loads of fun, chewed hay, his cage, shelves & box, pooped, eaten and snoozed and I've held him a couple of times too.