Today is one of those days, you know?

My brand new DAB radio has developed a fault and appears completely dead! So I can't listen to the radio today and of course, today is the day Sky is being turned off!

I've got a bad case of "startitis"; I want to start loads of projects, but not work on any of the WIP's I've already got!
After some discussion with Joy on Monday night; I've decided not to make Mojo for Alex, I'm going to make him a basic rib sock. Partly because rib is soooooooooo stretchy and partly because they'll be flatter than Mojo so he'll be able to wear them under his boots!
I bought some fiber from Natalie, it arrived today. The postman felt it necessary to ring the doorbell, hammer on the door then ring the doorbell AGAIN! I think the problem is that they can't hear the doorbell, I might stick a note on the door saying something like "The doorbell DOES work, there is no need to hammer the door down too!". Anyway, I'm in such a slumpy mood that I haven't even opened the package and it's been here over an hour!
I took Jess to get her eyes tested on Tuesday; she's a bit longsighted (which is apparently quite normal for teens and they grow out of it) and he's arranged for some reading glasses for her.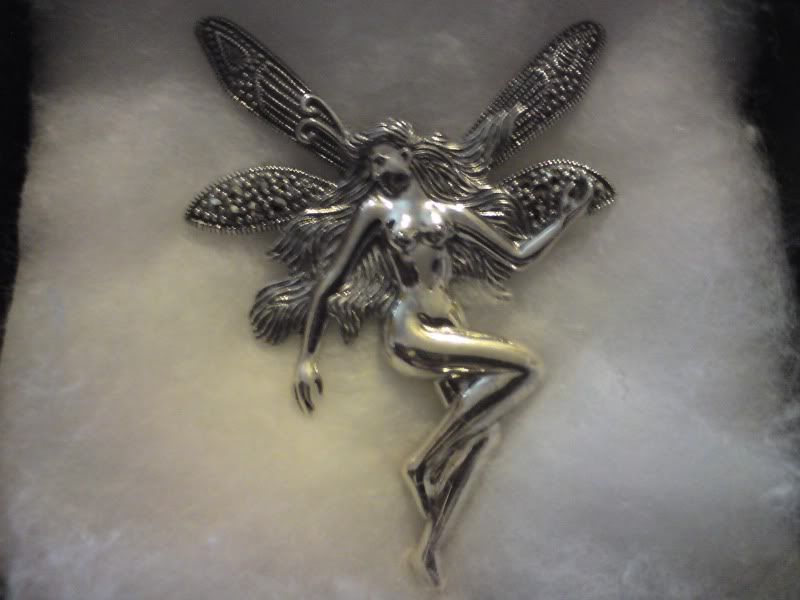 Then we wandered around town a bit. I was on the lookout for a broach as I just can't get on with the two gorgeous shawl pins I have - they're too bulky and won't go through my KSH shawl.

I found this little gem in a jewellery store.

It's about an inch and a half high, has sparkly bits on the wings, can be worn as a pendant or a broach and is real silver (I would've loved her in gold, but I dread to think what the cost would've been!).

Funny, everyone on Ravelry and twitter says it's "me!" LOL