Sorry I've been so quiet! No excuse really, just one of those things.
I finally got over the flu, gawd I felt ill! It took so long for the coughing to stop, then it simmered down to needing to clear my throat every five minutes - it was exhausting!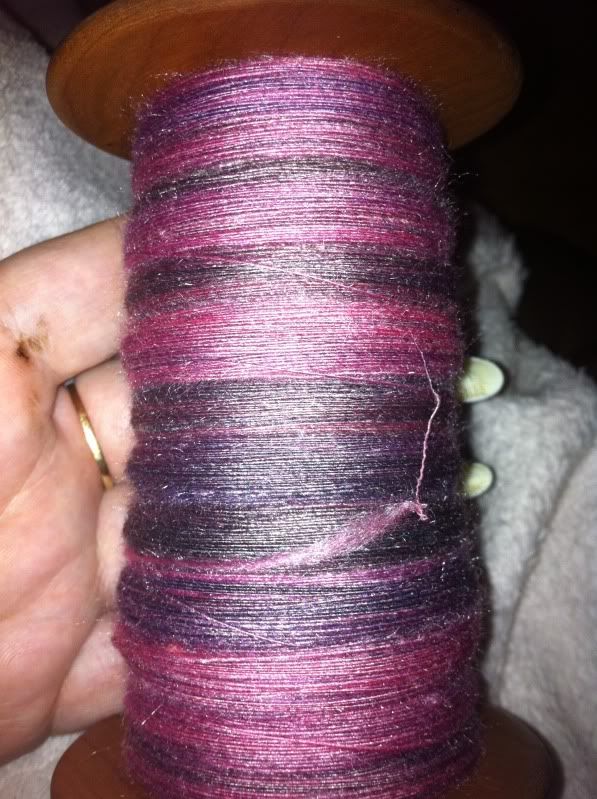 I still haven't plied the fibre I showed you in my last post, I started spinning some merino and tencel that Josie sent me a year or so ago and am now trying to get that finished - looks like I have a huge plying session awaiting me!
I'm steaming ahead quite nicely with the sock challenge, we are currently on letter D, socks A, B and C are all finished. Don't they look fab?
I'm going to save them until they're all complete before I start wearing them - well, that's the plan anyway LOL.
Unravel is next weekend! I'm really looking forward to it. I'll be travelling with Debs and I'll finally get to see Claire face to face (I was so gutted not to go to the tennis tournament and meet her in December!). I'm also looking forward to meeting old and new friends too!
I'm back to sleeping in the lounge at the moment, I bought a bath last month, but can't afford to get it fitted and my craft room is the only room big enough to store it in *sigh*
I'm sure there's more to tell you, but my mind has gone blank and Alex is clamouring for the computer (the one I gave him for Christmas died a spectacular death in the first week, so he's now using my Mac and I use the iPad - it's just still quicker to type on a keyboard that gives you tactile feedback than a touchscreen!)
If I remember what else I wanted to say, I'll be back in true Swarzeneggar style :D